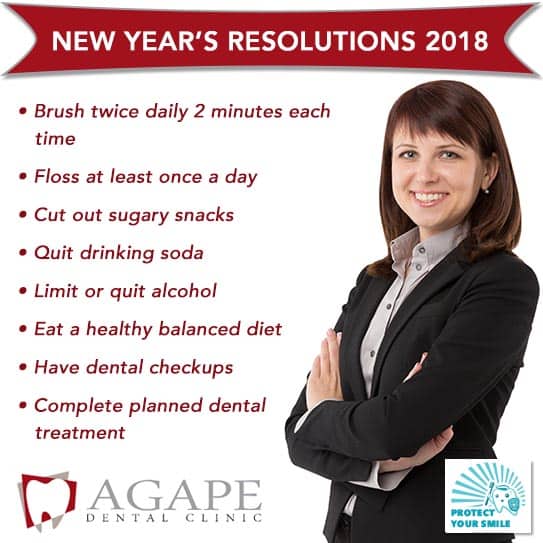 2018 is here and it is time to think about your 2018 New Year's resolutions, if you have not already done so.  This year, try to include ones that also benefit your oral health as the health of your teeth and gums can play a major role in your overall health.  Also, healthier teeth can lead to brighter smile and more smiling puts you and the people around you in a happier mood. 
Here are some resolutions to help make your 2018 smile your healthiest yet.  Resolutions can be grouped under two major headings – Resolutions that kick bad habits and Resolutions that adopt good habits
Habits That are Bad for your Oral Health
Smoking. People who use tobacco are more likely to develop oral cancer. Smoking also promotes gum disease and tooth loss. According to the U.S. Centers for Disease Control, smokers have double the risk of gum disease compared to non-smokers. And according to the Academy of General Dentistry, smokers are about twice as likely to lose their teeth as non-smokers.  If you do smoke, make 2018 the year you quit.
Snacking sugary snacks. Nibbling all day can create the perfect conditions for tooth decay—especially if your snacks contain sugar and other carbohydrates. Sticky snacks like cookies, crackers, chips and candy bars that cling to teeth tend to remain in the mouth and attract decay-causing oral bacteria. The acid these bacteria produce can penetrate the enamel of your teeth, causing cavities.
Soft Drinks. Soft drinks are full of tooth-eroding acid, and this is true of both regular and diet varieties of soda, sweetened iced tea, sports drinks and so-called energy drinks. The healthiest drink for your teeth is water!
Alcohol.  Aim to limit your alcohol consumption as many alcoholic drinks contain high levels of sugar and are highly acidic. The sugars and acids in these drinks can promote tooth decay. Additionally, alcohol can dehydrate you, which can further damage your oral health. Drinking water alongside alcoholic beverages can help prevent dehydration and wash away sugars and acids on your teeth. In addition, excessive drinking heightens your risk for oral cancer. 
Mouth-Healthy Habits
Brushing. You probably brush your teeth every day already, but are you doing it correctly? To get the most benefit from this healthy habit, brush twice each day for a full two minutes each time. Use a soft-bristled toothbrush with toothpaste that contains fluoride, and don't scrub too harshly!
Flossing. Yes, it's worth the effort! If you don't floss, you'll miss cleaning about 40% of your tooth surfaces. A toothbrush just can not reach in between teeth, where decay-causing dental plaque can hide. If you find dental floss difficult to work with, try using disposable floss holders.
Regular Dental Checkups. Keep up a regular schedule of professional teeth cleanings and exams! This allows us to remove any hardened dental plaque (tartar) that has built up on your teeth, screen you for oral cancer, and treat minor dental problems before they become major ones. Plus, it's a great opportunity to review your at-home oral hygiene. 
Upgrade Your Toothbrush.  If you use a manual toothbrush, it might be time to treat yourself (and your teeth!) to an electric toothbrush. Electric toothbrushes are better at removing plaque and food debris from the surfaces of your teeth. They cover a larger area faster, so you clean more surface in the same amount of time.  Brushing by hand can reach about 300 strokes per minute compared to thousands with an electric toothbrush. They also come with timers that help you brush for the recommended amount of time. 
Make water your beverage of choice.  The health benefits of proper hydration affect your smile just like they affect your body. Part of maintaining a healthy smile is keeping the pH level in your mouth at a proper level. All acidity weakens teeth. Decreasing how long acids can come in contact with teeth can lessen damage.  Drinking water with meals cleans teeth by rinsing harmful food particles from them. Water also helps restore your mouth to a neutral pH level more quickly than other beverages. Hydration also fights off dry mouth! 
Healthy Balanced diets.  Including fresh fruits and vegetables rich in calcium and vitamin D help keep the teeth strong and healthy.  Also, eating fibrous fruits and veggies (think celery, apples, carrots, etc) helps scrub plaque off of your teeth as you eat them.
Agape Dental Clinic would be happy to help you stick to your New Year's Oral Health Resolutions.  Schedule an appointment with our clinic by calling 780-465-1211 or by using the Appointment Form on our website at www.agapedental.ca.  Your Dental Insurance Benefits renew in the new year and Agape Dental Clinic offers financing options through HealthSmart Financial Services