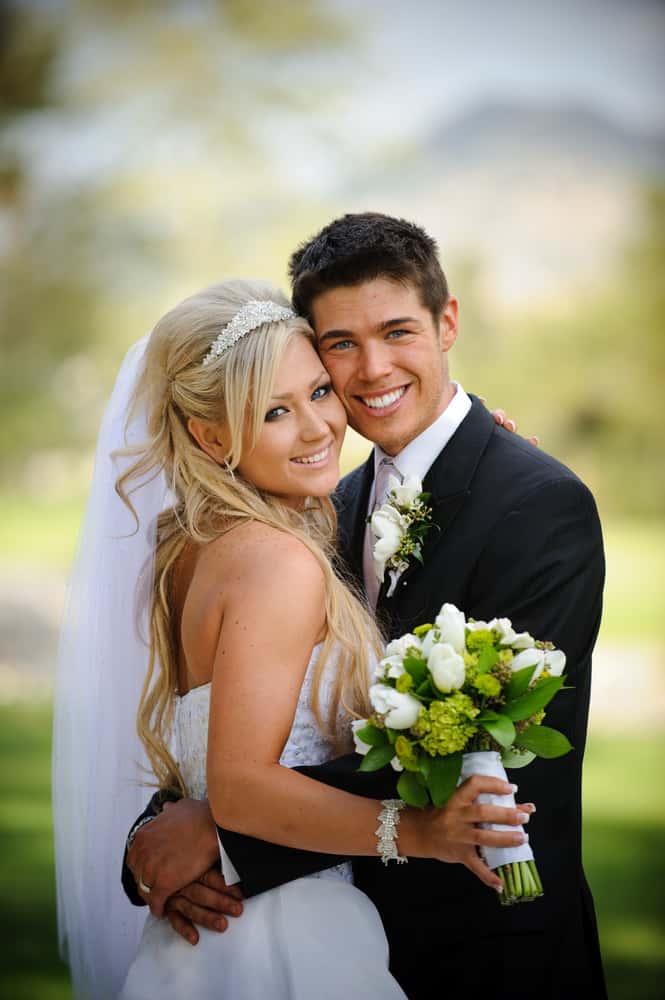 Summer and with it, summer weddings are just around the corner. Are you a bride or groom to be? Your wedding day is going to be one of the most memorable days of your life. Yes, your wedding dress or suit is going to attract a lot of attention and so will your accessories. Your smile is your best accessory. Nothing can get better than a confident, radiant smile on your Big Day. 92 percent of the brides said, "A smile is the most important wedding-day accessory"
From sun-up to sun-down your smile will be the center of attention on your wedding day; the photographer will be taking a lot of pictures and you want to make sure your smile is picture perfect. For a bride, nothing is worse than the teeth not matching the white bridal gown!! Having a great smile is something that will make your wedding day that much more special, and it'll be great for the photo albums as well. There will also be a lot of hugs and kisses and you need your mouth to be fresh and kissable. You certainly do not want anyone to turn their face because of bad breath!!
In a recent online poll conducted by Dear Doctor, 77% of those polled planned on visiting their dentist prior to their wedding. For some, this includes a thorough cleaning to remove stains and freshen both their smile and breath. However, a growing number of brides, grooms, and parents of the couple are seeking cosmetic dentistry or more specifically, a smile makeover, to transform their smile for their special day as well as their future.
Having a healthy and bright smile is the latest 'must-have' for brides-to-be, and it's not hard to understand why. After all, you'll be looking back at your wedding photos for the rest of your life. So you want to look your very best!
10 reasons why you should consider brightening your smile before your big day!
1. Wedding photos – you'll be looking at these for the rest of your life! Naturally, you want to look your very best.
2. Happiest day of your life – you'll be smiling all day so why not make sure your smile is set to dazzle?
3. The best accessory – you've got the dress, the shoes, the bag and the make-up sorted – but none of them are prettier than a healthy white smile.
4. Feeling your best – it's a huge day. With so much going on you'll want the confidence that you look your best so you can get on with enjoying yourself.
5. First day of married life – Your new life starts on this day, and you'll want to start as you mean to go on.
6. To dazzle your new husband with your amazing smile on your big day.
7. Confidence – Knowing your smile is healthy and bright will let you smile all day without a second thought.
8. Costs less than the dress – dental treatments are not as expensive or time consuming as you may think! You could get a beautiful white smile for less than the cost of your dress.
9. Wedding photos? A healthy white smile gives you the assurance that you look wonderful for these all-important snaps.
10. Wedding glow – White teeth add to that special radiance that every bride has, we can help you achiever that classic wedding glow.
Wedding Day Dental Treatment
If your wedding is quickly approaching and your smile simply isn't what you hoped it would be on your big day, the dentists at Agape Dental Clinic can help you to look your best with a smile makeover.
What issues can a Wedding smile makeover correct?
There are a variety of dental issues that a wedding smile makeover can remedy. From cracked teeth to improper spacing, a wedding smile makeover can correct virtually any problem that is keeping you from having a great smile on your special day. Uneven, stained and missing teeth can all be fixed with a smile makeover, as well as improper bites.
Here are a few options that could help your wedding day smile shine even more.  
Cleanings and dental exam
While dental cleanings are primarily about removing disease-causing plaque and tartar they can also give your teeth that clean and polished look.
A regular teeth cleaning by a dental hygienist is recommended to remove tartar that may develop even with careful brushing and flossing. There are some areas of the mouth that are difficult to reach with a regular toothbrush and floss. A professional teeth cleaning includes tooth scaling and tooth polishing. If there is a large amount of tartar buildup, sometimes other instruments are used also to loosen and remove deposits from the teeth. It is recommended that teeth be professionally cleaned at least one to two times per year. More frequent cleaning may be necessary if other dental or oral problems are present.
During a dental exam, your dentist at Agape Dental Clinic will identify any underlying oral health problems as well as evaluate your risk of developing tooth decay. These exams are important in preventing future problems like bad breath & gum disease while giving your dentist the opportunity of detecting any problems before they become more serious.
The last thing you want to worry about is a toothache on your wedding day or honeymoon. Schedule an appointment early on, a few months before your wedding, to give enough time for your smile to adjust. Dental checkups can reduce any chances of a dental emergency, like an infected tooth, or a root canal procedure close to your wedding day, if at all. So, setting up a Dental Appointment well in advance of your wedding day is key.
Teeth Whitening
Nothing can complement your wedding attire better than your sparkling, healthy smile. Whiter, brighter, lighter….. If you like everything about your teeth except the color, whitening by bleaching may be the solution for you. A professional "in-office" dental procedure offers the advantage of being quicker and more predictable, while an "at-home" kit may brighten your smile by several shades but requires more time. Both are safe, effective and reasonable! Teeth whitening can make your teeth feel more sensitive at times. So, visit your dentist much in advance to experience best results right away.
Whitening is the trendy new activity for members of the bridal party to do together along with the traditional manicures, hair, make up, and dress shopping! Everyone wants to make his or her smile "pop" for the special day with healthy and natural radiance.
Bonding
Before you truly "bond" with your spouse to be, make sure those little chips on your front teeth or broken discolored old fillings are replaced with the tooth colored bonding materials. This procedure provides life-like restoration of teeth with materials that bond and become part of the teeth themselves while retaining the same light transmitting properties of tooth enamel. You'll never know that they're not yours. This is a same day procedure, but make sure you schedule a dental exam so that your dentist can tell you how much time is needed for a bonding appointment.
Veneers
Veneers are another popular choice for brides and grooms. These thin, custom-made shells cover the front side of teeth, and can be used to treat spaces between teeth and teeth that are chipped or worn, permanently stained, poorly shaped or slightly crooked. Veneers require reducing the outer enamel shell of the teeth and replacing them with glass-like porcelain, recreating nature's artistry and giving you exactly the look and color you desire.
Crowns
Crowns may be needed if porcelain veneers won't do the trick. A crown is a tooth-shaped "cap" that is placed over a tooth. Crowns can restore a tooth's shape, size and strength and/or improve its appearance. Crowns cover the visible portion of a tooth that lies at and above the gum line.
Tooth replacements
If you have missing teeth marring your smile, you have several options. The top choice: dental implants, which replaces the root of the tooth and will be able to have a crown attached to it. An implant can thus restore both better function and appearance. For more affordable options, you can also turn to fixed bridges or removable dentures. The latter can be custom designed to replace all the teeth on a jaw arch or just a few in different locations.
Orthodontics
If you have extended time (as little as 3 months) before the wedding date, we may be able to correct crooked teeth or a poor bite (malocclusion) that's adversely impacting your smile. In some cases, you may be able to choose clear aligners (Invisalign), removable plastic trays that are hardly noticeable to others, over more visible braces to correct your bite.
Tips for the Big Day and Wedding Day Dental Care
In the days leading up to the big event, stay away from foods that can stain your teeth. This includes anything with a lot of coloring, such as coffee. On the morning of, ensure that you give your teeth a thorough scrub. The last thing you want is a stray piece of last night's dinner showing up unannounced! Make sure your bridesmaid or your close friends or family members carry a floss, a mirror and sugarless gum along with an emergency kit, so that they are handy for you. You may want to make sure there are no food deposits lodged between teeth; or may want a boost of fresh breath.
Agape Dental Clinic has Times to suit you
We know you're super busy trying to get everything done and need to fit all your appointments around your hectic schedule. We have extended opening hours, so we can fit you in at a time that suits you and your group, or you and your bride or groom-to be.