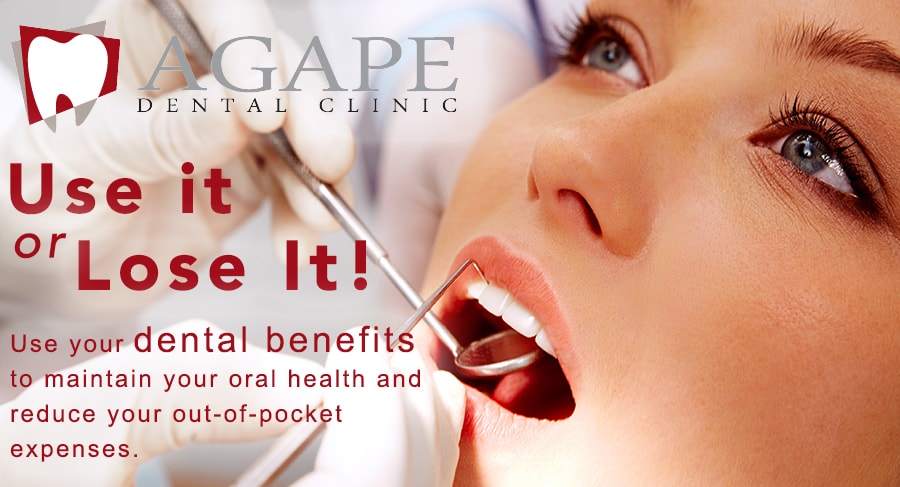 Did you know that you could save hundreds of dollars by using your dental benefits before the end of the year? While some dental insurance plans run on a fiscal year, most run on a calendar year. Many dental insurance plans are just sitting there with benefits unused and go to waste as soon as the clock strikes midnight December 31. This is because many do not use up their maximum coverage. Do not start the New Year and new cycle of dental insurance benefits leaving behind unused benefits. If your dental insurance plan runs on a traditional calendar year, you may, by using the benefits before the year end, be able to save yourself hundreds of dollars overall. Make your dental appointments now, instead of waiting for 2018. You have already paid for your dental benefits so make sure you use them! Use your dental benefits for better oral health, before they expire .
8 Reasons to Use your Dental Insurance Before the End of the Year
1. Yearly Maximum
The yearly maximum is the most money that the dental insurance plan will pay for your dental work within one full year and is available per covered person. This amount varies by insurance company, but the average tends to be around $1,000 per year, per person. The amount could go up to as much as $3000 per person, per year, depending on your premiums and employer contribution. The yearly maximum usually renews every year (on January 1 if your plan is on a calendar year). If you have unused benefits, these will not rollover, so you should utilize all your benefits while they are still active.
2. Monthly Premiums
If you are paying your dental insurance premiums every month, you should be using your benefits. Even if you don't need any dental treatment, you should always have your regular dental cleanings to help prevent and detect any early signs of cavities, gum disease, oral cancer, and other dental problems.

3. Maximize Your Benefits with Dental Hygiene and Checkups
Preventative appointments, including exams and cleanings, are typically better covered by insurance.so ensure good oral health and maximize your benefits by scheduling dental checkups and hygiene twice each year. Have you visited your dentist twice this year for your cleanings yet? If not, call Agape Dental Clinic now to get on the schedule before the end of the year. It is important to book now before the schedules get filled up.
4. "Extending Your Benefits"
Completing your treatment at the end of a calendar year can work to your advantage. If you are in need of dental treatment that will extend beyond one year's maximum benefits, you can "combine" this year's remaining benefits with next year's benefits (at the beginning of the new year). This is a very timely use of your maximums to complete treatment, rather than having to wait.
5. Deductible
The amount of money that you must pay to your dentist out of pocket before your insurance company will pay for its share is called the deductible. The deductible fee varies from plan to plan. When plans roll over to a new year, your deductible will also be reset. If you've met or are close to meeting your deductible for this year, you may be able to save money by completing a treatment in 2017 instead of 2018.
6. Dental Problems Can Worsen
Addressing dental problems now rather than putting off treatment can prevent the problems from getting worse, which could save you even more money compared to waiting. By delaying dental treatment, you are risking more extensive and expensive treatment down the road. What may be a simple cavity now, could turn into a root canal later. Call Agape Dental Clinic and schedule an appointment to use those benefits.
7. Fee Increases
Another reason to use your benefits before the end of the year is possible fee increases.  Some dentists raise their fees at the beginning of the year due to the increased cost of living, materials and equipment.  Fee increases also make your treatment more expensive.
Please Note: Agape Dental Clinic adheres to the Alberta Dental Association Fee Guide.
8. Advance Planning and Scheduling Needed to maximize Benefits
It is important to remember that insurance companies often pay benefits after the full treatment is completed. Patients that need dental treatment requiring multiple visits, should plan ahead and allow enough time for treatment completion before year end. For example, if you need a bridge or other treatments that require more than one appointment and you schedule treatment toward the end of 2017; but your treatment is not completed until January of 2018, your dental insurance benefit will be deducted in 2018. This means that your dental insurance benefit in 2017 that you planned to use would not be used, instead it would be lost.
Schedule your appointment now with Agape Dental Clinic.  Book online at https://agapedental.ca or call 780-465-1211 and benefit from your dental benefits before they expire at the end of the year!